Who knows what a TURDUCKEN is?
and who wants one for Christmas?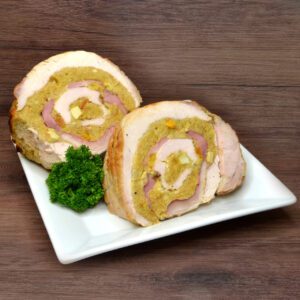 The name turducken comes from turkey, duck, and chicken and is a three bird roast. Let your taste buds enjoy this poultry feast of epic proportions this Christmas. Yes, it's a turducken we oh so highly recommend.
A turducken is a completely deboned turkey stuffed with a de-boned duck that's stuffed with, yes,  a de-boned chicken. There are no bones – it's all meat, layered at each layer with a choice of one of our very own homemade stuffings (as outlined below).
It's as simple as placing an order and impossible to resist.
What an event it would be on your table at Christmas time! (or anytime for that  matter – what, a Sunday roast and you present a turducken, it's unheard of….until NOW).

You will be famous for presenting this at Christmas!
 Choose from the following sizes:
Small – $120 feeds 10 – 12 and weighs 3kg
Medium – $140 feeds 12 – 14 and weighs 4kg
Large – $160 feeds 14 – 16 and weighs 5kg
All the birds used in the turducken are certified free range so go all out and serve this masterpiece with any one of our homemade condiments.