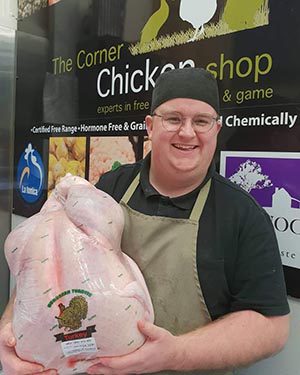 It's that time of year again – time to start planning the Christmas family feast! Don't know where to start? Turkey is a traditional go-to to have at both Thanksgiving and Christmas time.
At The Corner Chicken Shop we supply everything from stuffed turkey fillet rolls, plain turkey fillet rolls, turkey fillets, turkey buffets and of course the whole fresh turkeys.
We sell only the freshest free-range Numurkah turkey fillets; serving the people of Melbourne for over 16 years. We have everything from 4 flavours of homemade stuffing, cranberry sauce, turkey stock and turkey gravy!
Need to know exactly how long to cook your Turkey for? We have cooking instructions for your turkey available online or instore. But, if you really don't want to cook your Turkey, we will do it for you! Just pre-order your Turkey from us and we'll do the rest.
Both Chris and I pride ourselves on providing Melbourne families with the freshest Turkey available at Christmas time, making their Christmas meal the best they've ever had! We can't wait to provide you with the best service along with the best tasting turkey & freshest turkey available in Melbourne. We look forward to seeing you instore at the Queen Victoria Market – Dairy Hall.
Olivia (owner of The Corner Chicken Shop)
View our Turkey Recipes & Cooking Instructions here.