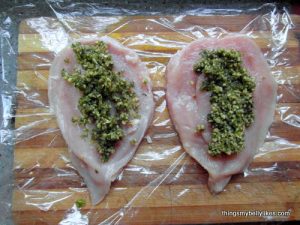 2 large chicken breasts
1/3 cup walnuts, chopped
4 fresh basil leaves
2 cloves garlic
2 tbsps extra virgin olive oil
1 tsp dried rosemary leaves
sea salt and black pepper
Using a small food processor, blend together the walnuts, basil, oil and garlic until a chunky paste. 
Carefully butterfly each chicken breast (make a slit through the meat then fold it open like a book). Cover with clingfilm and beat with a heavy object until the breast is somewhat flattened.
Put a tbsp of pesto in each breast, lining it along the 'seam' and then rolling over the top part like a flap. Make sure the chicken seals over the pesto and there's none poking out.
Season the chicken well, sprinkle over the rosemary and bake at 375 for 30-35 minutes.
(Things My Belly Likes, 2013)