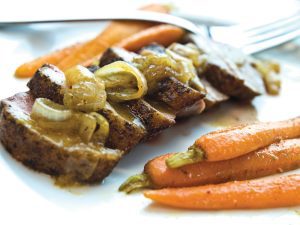 INGREDIENTS
The Cumin Scented Carrots
1 ½-pounds baby carrots, peeled
2 tablespoons butter
1 teaspoon honey
1 teaspoon ground cumin
– pinch cayenne
½ lemon
– fine sea salt and freshly ground pepper
The Spiced Duck Breast
½ teaspoon ground star anise
½ teaspoon ground cumin
1 teaspoon ground coriander
½ teaspoon ground white pepper
– pinch cayenne
4 boneless duck breast halves, trimmed
1 tablespoon canola oil
2 shallots, peeled and thinly sliced
1 tablespoon honey
½ cup orange juice
¼ cup lemon juice
2 tablespoons butter
– fine sea salt
DIRECTIONS
Place the baby carrots in a large skilled with butter, honey and about ⅓ cup water. Heat over medium high heat and season the carrots with cumin, cayenne, salt and pepper and cook stirring occasionally, until lightly caramelized and tender, about 20 minutes.
While the carrots are cooking, stir together the star anise, cumin, coriander and white pepper in small bowl. Season the duck breasts on both sides with salt, then crust the skin side of the duck breasts with the spice mixture.
Divide the canola oil into 2 sauté pans and heat over medium heat. When the pans are hot, gently place two duck breasts, skin side down in each pan. Lower the heat to medium low and cook until skin is golden brown and crispy, about 12-15 minutes. Turn the duck breasts over and continue cooking for 3-4 minutes for medium rare. Transfer the duck breasts to the cutting board to rest. Return the pan to the stove.
Over medium heat, divide the shallots between the pans and cook until soft. Add the honey, orange juice and lemon juice and reduce by half. Finish the pan sauce by whisking in the butter, seasoning to taste with salt then combine the sauce into one pan.
Thinly slice the duck breasts crosswise. Place the duck slices on the plates, spoon some of the glaze over the duck and serve with the roasted carrots.