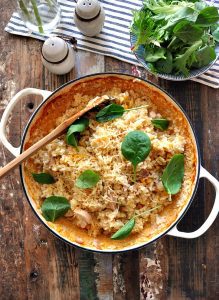 Ingredients
1 tbsp olive oil
1 onion, finely chopped
2 garlic cloves, finely chopped
2 cups Arborio rice
½ of our cooked roast chicken, shredded or (alternatively you could use fresh chicken fillets and panfry)
420g can creamed corn
Chopped parsley and/or baby spinach
Grated/shaved parmesan
Pepper to taste
Equipment: 10 cups (2.5 litres) oven proof dish
Instructions
Preheat oven to 200C.
In a pan, add oil. When the oil is hot, add onion
and garlic and sauté until tender. Add Arborio rice and chicken and sauté until the grains appeared to be slightly translucent. (if using fresh chicken panfry until cooked on both sides then shred)
Transfer the rice mixture to an oven proof dish. Stir in stock. Cover with a lid or foil and bake for 30 to 35 minutes, until the rice is tender.
Remove the lid and stir in creamed corn. Set aside, covered, for 5 minutes.
To serve, top with parmesan, chopped parsley or baby spinach and pepper to taste.

(Fuss Free Cooking, 2013)
Need to grab a few things? Why not shop online now – we can even deliver!