Ingredients: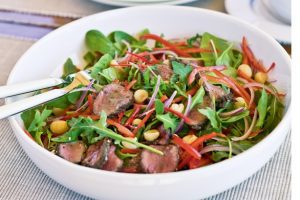 – 2 rosemary sprigs, leaves picked
– 3 garlic cloves
– 1 tablespoon macadamia oil
– 2 tablespoons chopped fresh thyme
– 2 cups each baby spinach & rocket leaves
– 1/2 red onion, thinly sliced
– 1 red capsicum, thinly sliced
– 1/2 cup (75g) roasted macadamia halves
Method:
Step 1: Using a mortar and pestle, pound the lemon myrtle, rosemary leaves, garlic cloves and macadamia oil to a paste. Transfer to a bowl and stir in the spice mix. Add the kangaroo fillets and turn to coat in the spice mixture. Cover with plastic wrap and chill for at least 1 hour, preferably overnight.
Step 2: Heat chargrill pan or barbecue over high heat. When hot, add the kangaroo fillets and cook for 2-3 minutes each side for medium-rare or until the fillets are cooked to your liking. Transfer to a plate and rest, covered loosely with foil, for 5 minutes.
Step 3: For the dressing, whisk the mustard, vinegar and oil in a bowl until combined.
Step 4: Combine spinach and rocket in a large bowl. Slice the fillets 1cm thick and scatter over the leaves with the onion, capsicum and macadamias. Drizzle with dressing and serve immediately.