Serves 4
Ingredients
600g kangaroo fillets, trimmed
1 tblsp soy sauce
1 tblsp seseame oil
2 tblsp olive oil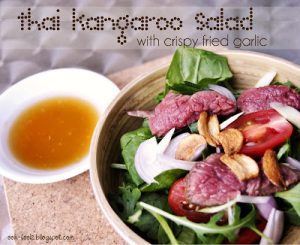 2 garlic cloves, very thinly sliced
6 cherry tomatoes, halved
2 eschalots, thinly sliced
2 spring onions, thinly sliced on an angle
70g salad greens (eg. spinach and rocket) OR
1/2 cup basil, mint and coriander
Dressing
2 tblsp lime juice
2 tblsp fish sauce
1 tblsp olive oil
2 tsp caster sugar
Method
1. Combine kangaroo, soy sauce and sesame oil in a bowl and leave at room temperature for 30 minutes to marinate.
2.  Heat olive oil in a frypan over medium heat. Cook garlic for 1 minute each side or until light golden. Remove and drain on paper towel.
3.  Return frypan to high heat.  Drain excess marinade and juice from the kangaroo before searing meat for 2-3 minutes on each side (medium-rare).  Transfer to a plate and loosely cover with foil and rest for 15 minutes.
4.  For the dressing, whisk the dressing ingredients together in a bowl until the sugar dissolves.
5.  Place tomatoes, eschalot, spring onions and salad greens in a bowl.  Thinly slice the rested kangaroo and add to the bowl.  Sprinkle with the fried garlic.
6.  Serve with dressing on the side.
(Ooh Look, 2010)